Informatisk julekalender: Luke 7
---
tirsdag 7. desember 2010 Julekalender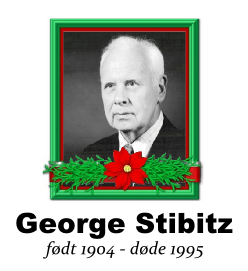 Det skjedde mye på slutten av 30 og begynnelsen av 40-tallet, og det er vanskelig å få oversikt over hvem som gjorde hva først. Men en av de viktigste personene i datamaskinens unnfangelse, i alle fall i USA, var George Robert Stibitz. I Dartmouth College, i byen Hanover i New Hampshire, henger det plakett i bronse som foreviger et historisk øyeblikk som Stibitz stod bak. På plaketten står det:
IN THIS BUILDING ON SEPTEMBER 9, 1940, GEORGE ROBERT STIBITZ, THEN A MATHEMATICIAN WITH BELL TELEPHONE LABORATORIES, FIRST DEMONSTRATED THE REMOTE OPERATION OF AN ELECTRICAL DIGITAL COMPUTER. STIBITZ, WHO CONCEIVED THE ELECTRICAL DIGITIAL COMPUTER IN 1937 AT BELL LABS, DESCRIBED HIS INVENTION OF THE "COMPLEX NUMBER CALCULATOR" AT A MEETING OF THE MATHEMATICAL ASSOCIATION OF AMERICA HELD HERE. MEMBERS OF THE AUDIENCE TRANSMITTED PROBLEMS TO THE COMPUTER AT BELL LABS IN NEW YORK CITY, AND IN SECONDS RECEIVED SOLUTIONS TRANSMITTED FROM THE COMPUTER TO A TELETYPEWRITER IN THIS HALL.
Stibitz var altså ikke bare en av de første som bygde digitale datamaskiner, men også den første som fjernstyrte en datamaskin via telenettet. Og det skjedde så tidlig som i 1940.
---
comments powered by